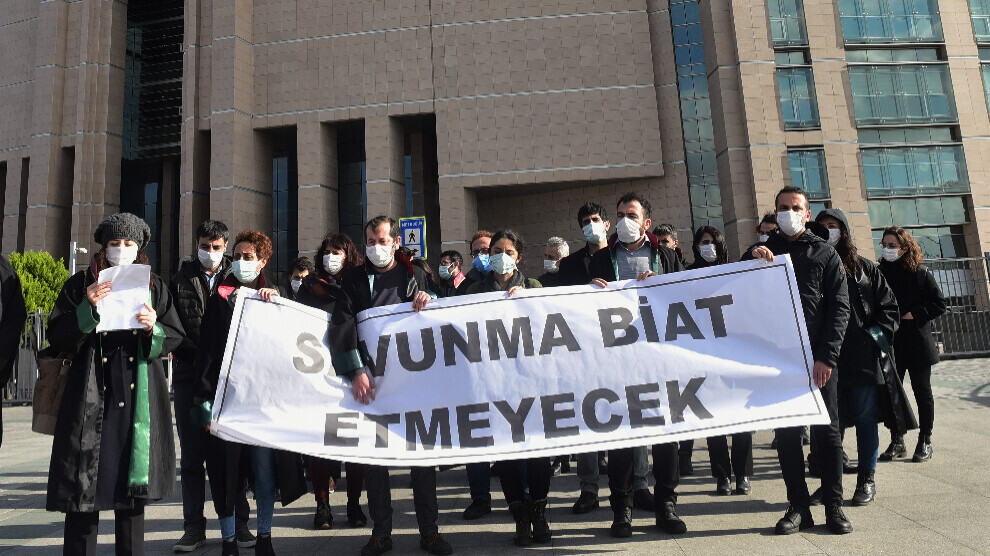 Law organizations criticized the detention of the lawyers from ÖHD in front of the Çağlayan Courthouse and expressed that; "No force can silence us. Our rank is on the side of the workers, the oppressed, the Kurdish people."
Law organizations, which came together under the guidance of Libertarian Lawyers Association (ÖHD), protested in front of the Çağlayan Courthouse in Istanbul against the detention of their colleagues during a police operation in Bursa. In the protest carried out under the police blockade, a banner saying "Defense will not pay allegiance" was raised. Slogans such as "Long live the resistance of ÖHD", "Revolutionary lawyers are our honor" and "Shoulder to shoulder against fascism" were shouted in the protest, and a joint statement was read by ÖHD Istanbul Branch head, lawyer Ayşe Acinikli.
Acinikli reminded that lawyers Cahit Kırkazak, Mehmet Deniz Büyük and İbrahim Korhan were detained in a night raid on 25 November in Bursa following the detentions in Amed (Diyarbakir). Acinikli stated that those are today talking about introducing a "judicial reform" continue to attack the opponents and their lawyers, and underlined that this political massacre operation carried out against the ÖHD members is an attack on the attorneyship profession, as well as an attack on the right to defense of the Kurdish people.
Acinikli emphasized that "As the defense, we have not worked under the shadow of the government. We did not submit, we protected our clients' right to defense.
We, as the lawyers of the workers, the oppressed and the Kurdish people, have never taken a step back from our practice of attorneyship. We will not. We have not bowed to the government's policies of aggression and intimidation.
We endorse the working class, the laborers, the oppressed peoples and the Kurdish people in the face of a country transformed into an empire of fear. No power can silence us today with the threat of detention and arrest, just as we did not submit to those who tried to close our associations with statutory decrees 4 years ago. We have never been submissive kids of the system, nor will we ever be."