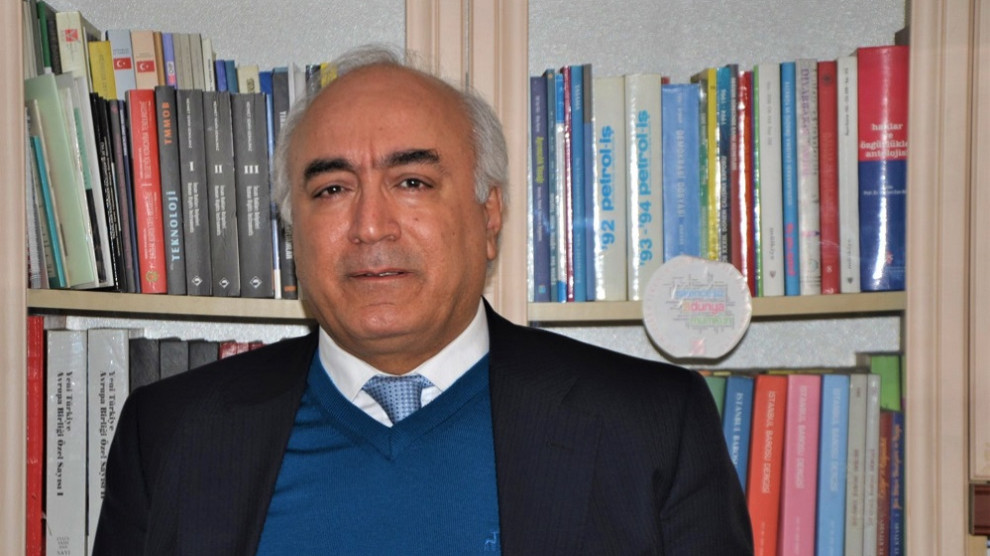 Commenting on the implementation of a systematic isolation on Kurdish People's Leader Abdullah Öcalan, Human Rights Association (IHD) co-chair Öztürk Türkdoğan said that a democratization in Turkey will not be possible as long as the war policies and isolation remain. Türkdoğan stated that the isolation imposed on Kurdish People's Leader Abdullah Öcalan is unlawful and "Imralı Prison must be closed".
'LAW AND STATUTE IN IMRALI'
Emphasizing that the execution laws have not been implemented in the Imralı F Type High Security Prison where Kurdish leader Abdullah Öcalan has been held for 21 years, Türkdoğan said:
"When it comes to Imralı Prison, it is not possible to talk about law and statutes. Some decisions are taken only for show. It is not really possible to understand how a lawyer visit ban can be imposed on a person who is never allowed to meet with his lawyers anyway. The Ministry of Justice should explain this to us. Imrali Prison must be closed. Within the military forbidden zone, there cannot be a high security prison under the Ministry of Justice. If there is such a prison, it should not be located in a military zone. If this is an F-Type prison, it should be the same as in other prisons where we can meet with our clients and the prisoners meet with their families. What we have been saying for years is that the İmralı Prison should be closed absolutely."
'ISOLATION MUST END'
Drawing attention to the CPT reports, Türkdoğan stressed that the isolation must end. He continued:
"The most fundamental rights of Abdullah Öcalan and 3 other prisoners on Imrali are being violated. If the Council of Europe and the European Union (EU) are not taking a step forward, it shows us that the human rights values ​​they defend are eroding. If Abdullah Öcalan's political identity is seen as an obstacle, then it means that this Council and the EU are reluctant to encourage the Kurds and Turkey to find a democratic solution to the Kurdish problem in Turkey. In the context of human rights, they need to remind Turkey of its obligations. There are many applications at the European Court of Human Rights (ECtHR) and these applications are placed aside.
In 2014, a decision was made regarding Abdullah Öcalan that there could be no concept of "execution until death". According to this decision, Turkey must give a date when Abdullah Öcalan will be released. However, in the latest execution law amendment, regulations were made that have further aggravated the situation. In this way, Turkey generalized discrimination against Abdullah Öcalan. The Council of Europe needs to take a final stance on this issue as soon as possible. There is a very clear suggestion in the CPT reports to end the isolation."
'HUNGER STRIKES WILL HAVE SERIOUS RESULTS DURING PANDEMIC'
Türkdoğan warned that thehunger strike of political prisoners in Turkey's prisons, set to start on November 27, might lead to severe results and added: "During the indefinite non-alternating hunger strikes launched by Leyla Güven in November 2018 and spread to 90 prisons participated by around 3060 prisoners in Turkey, 8 people ended their lives. As a result, the political power took a step in this regard and the isolation was lifted. However, there has been a new isolation since August. Prisons have taken a risky decision to urge the political power to fulfill its promise and to eliminate this lawlessness. The biggest risk in this epidemic environment is the weakening of immunity and the increase in possibility of getting sick through hunger strikes. In order to make sure that the lives of the prisoners are not risked, the Ministry of Justice must end the isolation practices on Imrali Prison as soon as possible. It should be ensured that Abdullah Öcalan and 3 prisoners meet with their families and lawyers. Turkey should no longer be a country that repeats itself."