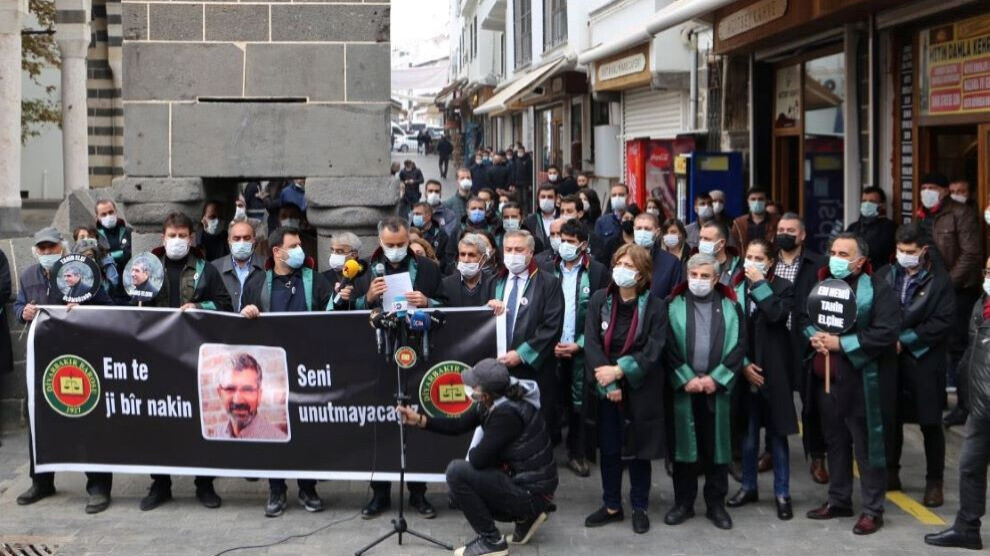 Five years after the killing Tahir Elçi, at the scene of the crime in the old cental district of Sur, the Amed Bar Association remembered the human rights lawyer: "Your dream of a democratic, free and peaceful life is also our dream."
The Diyarbakır (Amed) Bar Association has commemorated its chairman Tahir Elçi, who was shot dead five years ago. Numerous people gathered in front of the court building in the Kurdish province, including the widow Türkan Elçi, HDP co-chair Mithat Sancar, DTK co-chair Berdan Öztürk, DBP co-chair Saliha Aydeniz, bar association chairman Cihan Aydin, ÖHD chairman Bünyamin Şeker, as well as representatives of the medical association TTB, the trade union federation KESK and bar associations from other provinces. From the courthouse, the crowd march behind a banner with the Kurdish and Turkish inscription "We won't forget you" to the scene of the crime in the Sur district, where fatal shots were fired at the prominent human rights defender in front of the famous "Four-legged Minaret" on November 28, 2015.
In a speech here, the chairman of the Amed Bar Association, Cihan Aydin, said: "We have been after the murderers of Tahir Elçi for five years. They are protected by a massive armor of impunity."
The Bar Association has demanded justice every week in front of the courthouse until the opening of the trial on October 21. At the start of the trial, however, it became clear that the state had no interest in solving the crime and sentencing the perpetrators, said Cihan Aydin and continued: "We will continue to fight against the policy of impunity and the attempts at cover-up. In Turkey, there is no longer any legal certainty; it has become routine that apartment doors are broken open every morning and dozens of people are arrested."
The lawyer spoke of a "deafening silence of justice" in the face of torture, murder, femicide, child abuse and environmental destruction.
A peaceful solution to the Kurdish question is also much further away today than it was during Tahir Elçi's lifetime, Aydin said and added: "The matter is left entirely to the security bureaucracy. The lack of a political solution continues to claim human lives. Freedom of opinion and freedom of the press are under constant serious threat. Thousands of people are affected by proceedings because they have shared their thoughts via social networks and other means of communication. Dozens of journalists who have fulfilled their duties according to their professional ethics are in prison. The prisons have become a permanent residence for politicians, people active in civil society and media workers. Every year dozens of prisoners die because they are not medically treated."