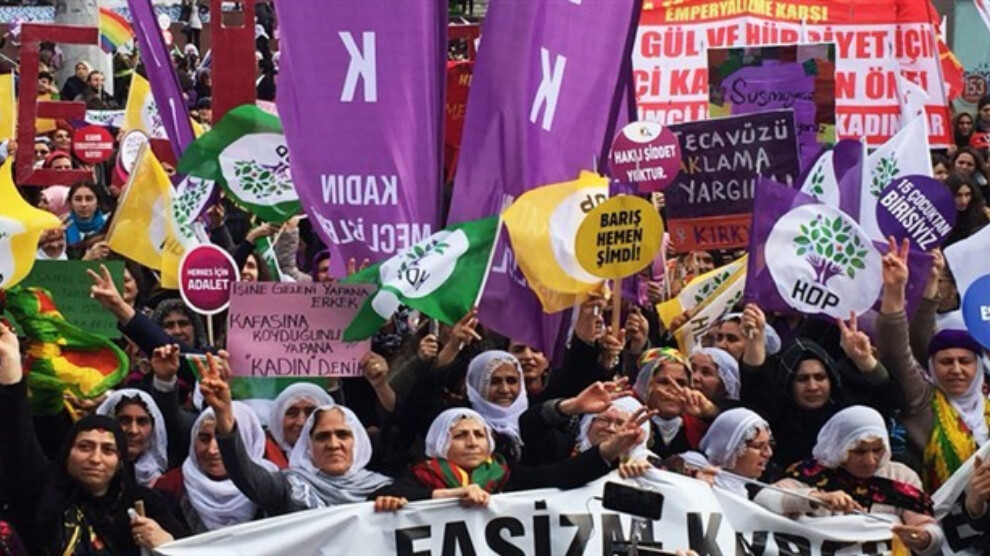 The Peoples' Democratic Party (HDP) Democratic Local Governments Women's Council spokesperson, Hediye Karaaslan made a written statement regarding the political genocide practices.
"The AKP-MHP government, which pursues its hatred policy, has detained nearly 1000 people in the last ten days through political genocide operations. The previous day, dozens of people, including our Cizre Municipality co-mayor Berivan Kutlu, members of the Municipal Council and the Provincial Council, were detained", said Karaaslan.
'WOMEN ARE TARGETED IN PARTICULAR'
The statement continued:
"Our Cizre Municipality Co-Mayor Berivan Kutlu, who was suspended from her duty with the Trustee Coup on 29 October 2019, has been detained four times since she took office with the local elections on 31 March 2019. Kutlu, detained with false indictments each time, was detained and threatened by the police who told her to leave the country during her previous detention.
Fearing the organized power and existence of women, the AKP-MHP's male alliance targets women and women's struggle in particular in all of its attacks. The very first thing to do by the trustees appointed by the AKP-MHP government is always to attack women's gains and our co-chairmanship system. With the trustees being appointed, our female co-mayors and council members were detained and imprisoned. As a result of the government's male dominant and misogynist policies, 19 of our co-chairs were taken hostage. Dozens of councilors are still being detained, including 7 female co-mayors."
'WE WILL NEVER BOW'
Spokesperson Karaaslan called out to the government, "We have never bowed to your misogynist policies and your attacks against our co-chairmanship system until today, nor will we ever."
She added; "We, women, will continue our struggle against the trustee politics that usurp our achievements. It should be known that our Cizre co-chair Berivan Kutlu is the chosen will of the people and women of Cizre. Berivan Kutlu and all of our hostage friends should be released immediately."